Remembering Curt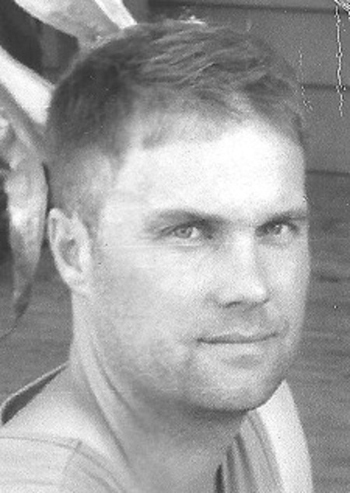 Curtis Eugene Luttig died on February 13, 2012 after a fearless fight against ALS at the age of 43 while surrounded by his family and his very close friends.

Curt was born on May 25, 1968 in St. Johns, the son of Paul and Patricia Luttig. He married Leslie Petter on August 14, 1993 in Shingleton, Michigan. Together they have three beautiful, spunky, loving children, Quinn, Brantae and Sadye. If you see their children, you will see a wonderful resemblance of Curt in each of them. He will forever live on.

Curt attended St. Johns High School and took several classes at Michigan State University in Microbiology, before realizing that his love of work was remodeling. After building their own home, Curt started his own business, Luttig Custom Homes & Remodeling and had several faithful customers who became to be more than just customers; they became his friends.

Living and enjoying life each day, is what Curt took advantage of. He was passionate about his family and was the type of father that made us extremely proud, devoting every moment to them. He thoroughly enjoyed coaching his children in sports and also the children in the community. Curt made learning a sport enjoyable and made sure all participated. He even coached during the time when he could no longer talk, and continued to do so until he could no longer. Curt embraced the outdoors, loved spending weekends at the cottage with his family, a true MSU Spartan fan and was a remarkable athlete. In high school he played varsity basketball and tennis and he was an amazing golfer. Until ALS took his ability to be on the court, he actively played basketball with a great group of men who were fighting off middle age, known as the Dewitt Morning Hoopsters and the Sunday Group at St. Joe. He never missed an opportunity to stop at various Speedways for a 44 oz. of Mt. Dew and a candy bar, and enthusiastically ate chips and dip for breakfast. Curt was extremely sarcastic, humorous and amazing at everything he set his mind to. He was the most kind, caring and handsome man, with beautiful blue eyes, and the softest smile. Though ALS took all that was him on a physical level, mentally through his writings and updates on the Luttig Family website he was able to make people stop and enjoy all the little things before them... to embrace life. Curt maintained a positive outlook on life despite his illness, touched lives of people he never knew, fought harder than anyone we know. He was beyond courageous; he never gave up.

Curt will forever be loved, remembered and deeply missed by his wife, Leslie, son Quinn and daughters, Brantae and Sadye. Also surviving are his parents, Paul and Patricia Luttig, siblings, Ernie Luttig, Bill Luttig, Pam (Craig) Luttig-Stoltz and Linda (Dave) Lucas and several nieces and nephews.

"Life isn't days and years. It's what you do with time and with all the goodness and grace that's inside you."

In lieu of flowers and though they are beautiful, in Curt's words, "Flowers creep me out at funerals" so he has requested that memorial contributions be made to the Luttig Family for their childrens' college and for a beautiful tree to be planted in his memory for his children to watch over the years. It will be a place of comfort for them to be close to their dad and for him to be close to them... only a memory away.

Memorial service will be at 3 P.M. Friday, February 17, 2012 at St. Joseph Catholic Church in St. Johns. The family will receive friends 11 A.M. to 2:30 P.M. before the service at the Osgood Funeral Home in St. Johns.